Veterinary Ophthalmology in Greensboro
Eye Care for Pets in Greensboro
At Carolina Veterinary Specialists in Greensboro, we offer ophthalmology services to diagnose and treat eye problems in pets.
Please Note: A referral from your primary care veterinarian is required before making an ophthalmology appointment.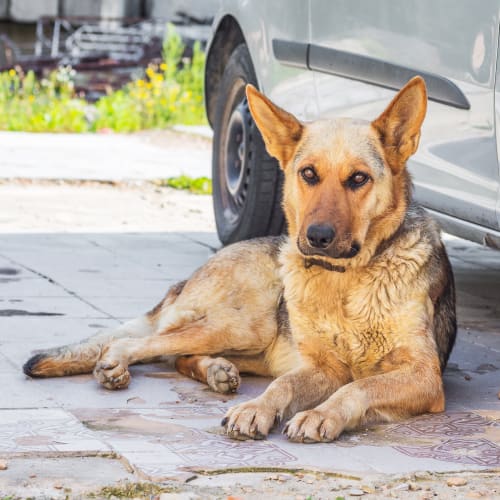 Greensboro Vet Ophthalmology Services
Our ophthamology team provides treatment of eye disorders and diseases in cats and dogs.
Working alongside your primary care veterinarian, we provide care for ocular diseases that can impact your pet. While some conditions may require surgery, many can be managed with medications alone. 
At Carolina Veterinary Specialists in Greensboro, we can diagnose and treat any eye disease or condition including:
Tumors
Eyelid Issues
Infections
Drainage
Glaucoma
Cataracts
Vision Loss
Dry Eye
Injuries
Our Board-Certified Veterinary Ophthalmologist in Greensboro NC
A board-certified veterinary ophthalmologist has completed advanced training in ophthalmology that meets American College of Veterinary Ophthalmologists (ACVO) guidelines. This training includes successfully completing an internship, residency program, and intensive examinations.
Greensboro Vet Eye Examination & Diagnosis
When you bring your pet in for the first time as a new patient, their eye exam will include:
Fluorescein Staining to evaluate the corneal surface
Schirmer Tear Testing to assess tear production
Tonometry to check intraocular pressure
Indirect Ophthalmoscopy to evaluate the back of the eye
Slit Lamp Biomicroscopy to evaluate the front of the eye
We may also recommend additional diagnostic testing, including electroretinography (ERG), ocular ultrasound, or gonioscopy for dogs at risk for glaucoma.
Based on the examination and test results, we will create a treatment plan tailored to your pet.